Address:
1/F, VTC Tower, 27 Wood Road, Wanchai, Hong Kong (Entering from the stairs at Lobby)
Our location: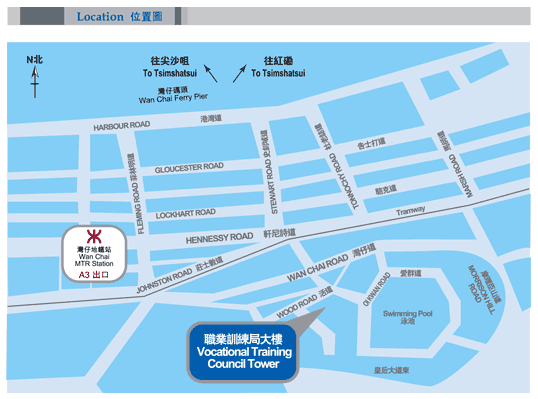 Operating Hours:
9:00a.m. - 8:00p.m. (Monday to Friday)
9:00a.m. - 12:00 noon (Saturday)
The operating hour may subject to change on the working day immediately before a public holiday or under special work arrangement.  Change will be post in the website and in the enrolment counter of the Centre.
General Inquiry:
Tel: 2919 1467 / 2919 1468 / 2919 1478
Fax: 2574 0213
Email: cpdc@vtc.edu.hk
Services hours for answering telephone enquiries:
9:00 a.m. - 5:15 p.m. (Monday to Friday)
9:00 a.m. - 12:00 noon (Saturday)