Customised in-house Training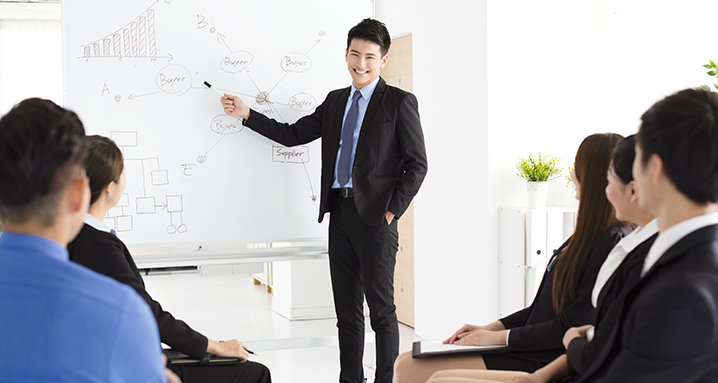 Customise your Corporate Training and Management Consultancy Services
We have been serving thousands of multi-national companies, government departments, utility corporations since 1984. We can jointly work with you to develop in-house training programmes to enhance the competence of your management team and to foster a continuous learning culture within the organisations.
Scope of Services
Training consulting services
Training needs analysis
Training package design and development
Training programme delivery and implementation
Training evaluation and review
Staff engagement and retention programme
Executive coaching
Staff counselling
etc.
Methodologies
| | |
| --- | --- |
| Approaches | Details |
| Preliminary dialogue | Initial discussion on clients' request |
| Interviewing key personnel | To ascertain needs, priority and importance |
| In-depth study and need- analysis | To collect business cases and relevant information for design and development of the solution |
| Findings and recommendations | To consolidate finding with recommendations to gain acceptance and commitment from client |
| Solution implementation | To work with client to launch the best solution using professional and innovative approach |
| Evaluation and reviews | To develop framework to track training outcome and to gather data for evaluating training effectiveness |
| Follow-up and reinforcement | To provide follow up actions to ensure the transfer or reinforcement of learning in workplace |
Feature and Benefit
Using our corporate training and management consultancy services, you will have the following benefits and features:
Cost-effective solutions within your budget
One-stop-shop services provided by our highly experienced team of training consultants or practitioners, all with extensive line management experience and hands-on management training and consulting expertise.
Seamless interfacing with your own training and development staff as well as outside experts through our professional networks
Practical supportive materials including current best practices in respective fields.
Training Programme on the go
Level
Training Programme
General Staff
Interpersonal Communication Skills
Selling Skills
Quality Customer Services
Team Building
Retail Management
Emotional Management
Supervisory to Middle Management

Train the Training Manager
Negotiation Skills
Influencing Skills
Problem Solving and Decision Making skills
Innovation and creativity
Facilitation Skills
Interviewing Skills
Presentation Skills
Senior to Top Management
Strategic Management
Leadership Development
Managing Change
Conflict Management
Decision Making
Design thinking
Performance Management
*we can customise training to suite your specific needs as well
What our Clients' Feedback
"PEAK's consultant team have demonstrated their professionalism and passion in understanding our training needs, giving us valuable advice on the programme design and identifying suitable trainers for the programme.
The event turned out to be very successful, enjoyable and memorable. Participants were particularly impressed with and benefited from the unique adventure-based simulation activities, which required them to step out of their comfort zone and work closely as a team to accomplish challenging tasks. The trainer is also well-experienced and his debriefing session was insightful. I have no hesitation in recommending PEAK's team to any companies."

Ms. Cally Tsang
Senior Human Resources Manager | Orbis International
"HKT has sponsored over hundreds of staff in Consumer Group to take the PEAK Program, i.e. PDBM & BABA courses for many years and they are greatly benefited from it in their pursuit of professional development. From the study of PEAK Program, our staff are equipped with the latest business knowledge with diversified management skills which enhance their work capabilities and extend the horizon to take up larger job role in our company. PEAK's team, as the key consultant working with us in the past few years, continuously provides their high quality service in terms of course arrangement, class scheduling, selection of suitable trainers and program briefing. They also share invaluable insight and advice to our staff on personal growth and academic advancement when being consulted. More importantly, PEAK's team is always flexible to address our changing demands and requests promptly and effectively due to the dynamic business environment of telecom industry.
The VTC PEAK Program as well as PEAK's professional consultancy are highly appreciated and recommended."
Mr. Stephen Kwan
Assistant Vice President | Training & Development | HKT-Consumer Group
Enquiry
To tailor-make training solutions that satisfying your specific training needs or other relevant services, please contact:
Keith Cheung Training Consultant
Tel: 2836 1379
Email: keithcheung@vtc.edu.hk